Richfeel Luxury Gold Bleach Kit 28g (Pack Of 7)
Extra 10% Off on purchase of 1200
Maximum order quantity limit for this product is 5
The anti - ageing properties of gold can be tracked back 5000 years to Cleopatra's time. Gold restores elasticity in the tissues, slows collagen depletion and prevents the skin from sagging, thus further stimulating cellular growth. Say goodbye to fine lines, wrinkles and dull looking skin. Embrace a younger looking skin. Our gold bleach brightens and nourishes your skin while leaving it relaxed. With its antibacterial properties, the precious metal serves to be your skins best therapist. Give your complexion a Midas touch with our Gold bleach kit.
Ingredients
Ingredients
Aqua, emulsifying wax, hydrogen peroxide,light liquid paraffin, sodium stannate, ammonia bicarbonate, sodium silicate,gold, alow barbedensis leaf juice, phenoxyethanol
Specifications
Special Features
Lightens the complexion,increases skin elasticity, improves blood circulation, sooth inflamation, anti - bacterial properties, reduces excess oil in skin and prevents premature ageing
Skin/Hair Type
All skin types
Wash your face with soap and cold water.Pat dry. Mix 2 spatulas of bleach cream with 2 pinches of activator powder. The approximate ratio of proportion should be 5 (cream): 1 (activator). Mix cream and activator till powder completely dissolves in cream. Use the spatula to apply the mixture on desired areas avoiding eye brows and around the eyes. Allow the mixture to remain on the skin for 10 - 15 minutes. Wash off with normal water.Pat dry. Apply post bleach gel and massage gently till it gets absorbed.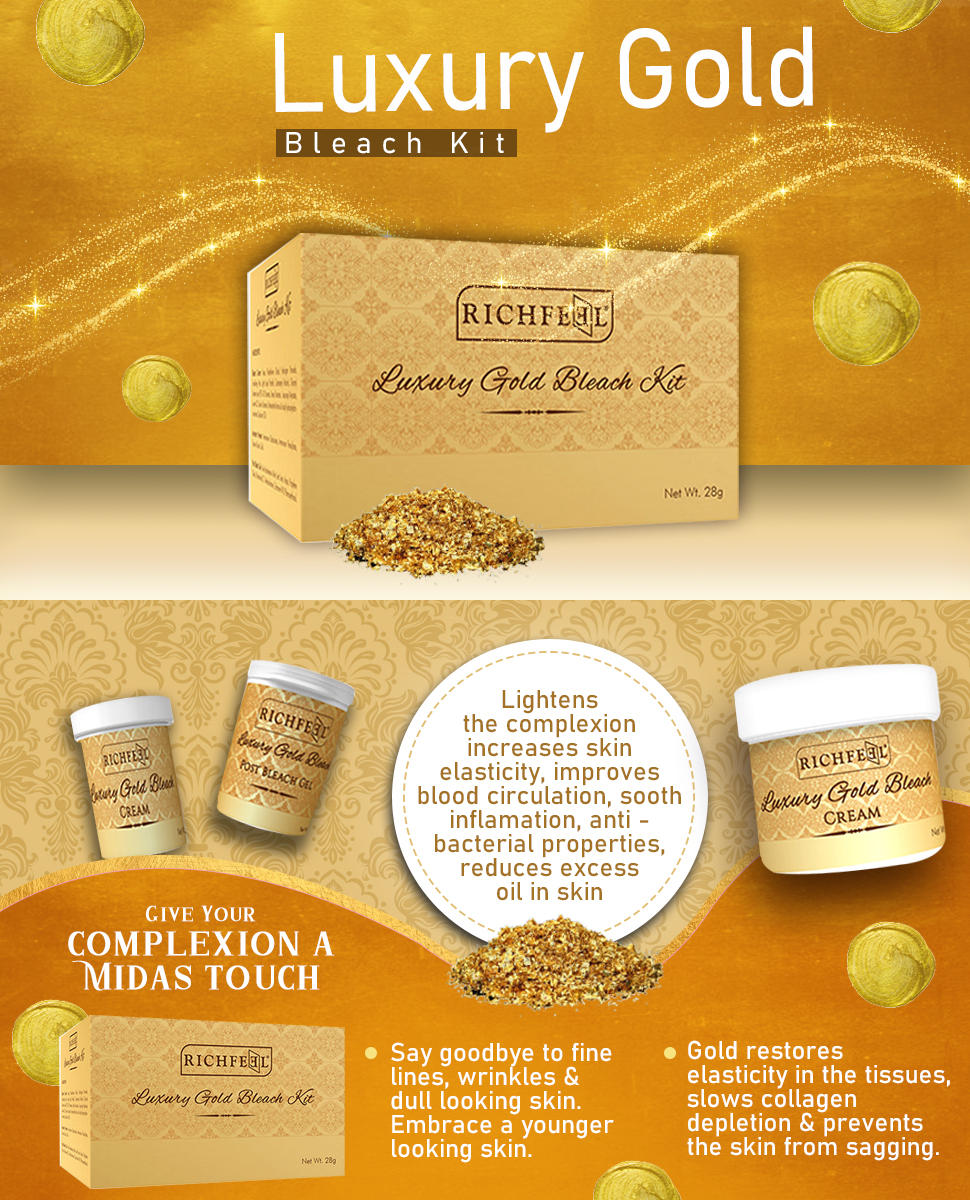 ALSO BOUGHT